Aside from the online activities I've been engaged with since 2007, in 2016, I added an offline earning activity that was totally unexpected and still surprises me.
Although this was originally written in 2016 and updated in early 2019, it deserved another update today because I am celebrating survival of what happened 3 years ago when my life was spared.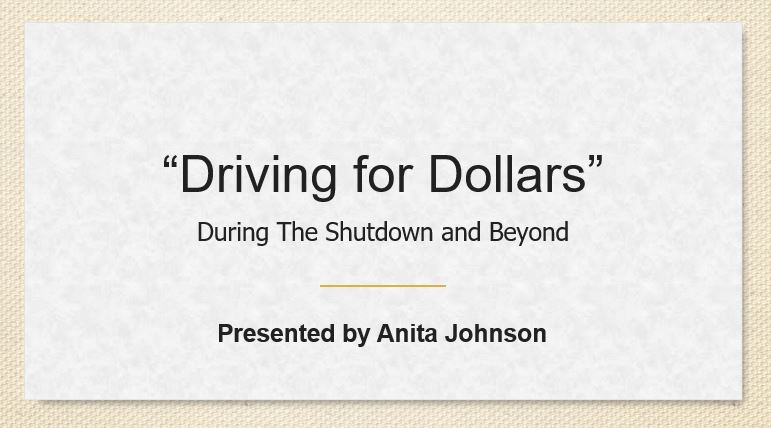 Click the image or HERE to watch in a separate tab/window
When I relocated from Daytona Beach to Atlanta in July 2016, it was after spending the better part of 2016 seriously resisting coming back to Atlanta, while my entire way of life was falling apart around me in FL.
It was the life threatening event on July 6, the same day police killed Alton Sterling in Baton Rogue, that signaled my life would not be the same.  The next day, I wrote about it for posterity here, and read it to my best girlfriend when she called to tell me about Philandro Castile who had been killed by police on Facebook in Minneapolis that day.  All she could say to what I had written was:  "Oh My God!  Oh My God!"  The following day she called and said she heard, not the voice of God, but my deceased Mom's voice:  "You need to pack your stuff and come on".
Initially, I took a "real" J-O-B (which I haven't had since 2002) because it seemed the appropriate thing to do, given girlfriend wasn't charging me for space to get back on my feet.  I spent 30 days being offline for 12-14 hours; waking up at 4AM to snooze the alarm until 5AM; get up, be dressed and ready to leave by 7AM to drive to catch the express bus that left at 7:30AM; and arrived downtown 15 minutes before I was to sign in and start "work" at 8:30AM.
The job itself really required 2-3 more people; they didn't pay overtime, but expected me to provide 'solutions' and be the 'remedy' while sometimes staying longer than the 8 hours I was already there; and my commute home was, on average, an hour and half for less than 20 miles!
As much as I appreciated the opportunity and 'steady and consistent' checks on the 15th and end of month, I had to leave.  I simply refused to become "an extension of someone else's chaos" or run on their hamster wheel.  I have my own.  🙂
In fact, leaving that J-O-B is what caused me to start seriously driving for Uber.  Like the next day!  It turns out I can "work" half as long for about the same amount of money!  And believe it or not, driving in Atlanta traffic has actually turned out to be less stressful and more enjoyable than the 30 days of offline madness I endured working at someone else's place of business.
THIS offline gig has surprised me because the primary reason for resisting returning to Atlanta was the traffic.  Atlanta=Traffic . . . it's happening somewhere, all the time.  I have 40 years experience driving these highways.  But now, I get to choose what time of day I enter the fray. And I'm not in a hurry to get anywhere, just providing a very necessary service that is booming here in the ATL.
So after a day or two of driving for Uber to areas of metropolitan Atlanta that I'd only seen on the TV weather map, I had to laugh.  NEVER say what you won't do, as God has other plans.   🙂
Another surprise for me in driving for Uber is the actual driving part.  Driving has never been my favorite activity, more a necessary one, like most people who commute to a place of business.  When I bought my car seven years ago, and instantly named it "God's Blessings", I had no idea I would become a road warrior.
Almost two months later, I had relocated to Daytona Beach and burned gas driving all around the city to learn it.  Driving was easy and enjoyable there.  And several times a year, I made the 400+ mile one-way drive to Atlanta to visit family and attend internet marketing events. And while in Atlanta, always managed to drive as many miles as it took to come from FL.
NOW, I can see that all of that has been preparation for what I'm currently engaged in.  Me, who wanted NOTHING to do with Atlanta's traffic is out in it every day!  And I have to admit, it's like an adventure because:
I have no idea where I'm taking a rider until they get in the car;
I have driven to places I've only heard the name of;
I have been on streets I didn't know existed which connect parts of Atlanta without being on the highway;
I meet new people every day; AND
I get to set a goal for how much I want to earn each day, and see it materialize in real time.
Oh, and not only does Uber pay weekly by direct deposit, after so many drives, you can request your money up to 5 times a day!  Seriously!  Instant Pay is 50 cents per Cash Out and earnings transfer from the app to your bank account or debit card instantly! "Driving For Dollars" is what I do. 🙂
To really understand, be sure you listen to a recent Q&A conversation about Uber between my sister, a TSA Agent who was directly impacted by the federal government's shutdown, and myself.
(And my prediction was correct: the shutdown did end days before Super Bowl, here in Atlanta.  LOL)
To view full screen, point to the bottom right of the video and click the last icon
Press ESC (top left on keyboard) to return to this post
UPDATE:
In January, 2019, all Uber text in this post was linked to my referral code.  However, Uber failed to honor its referral bonus offer when my sister completed 50 trips in a week.  Neither one of us received the $100 referral bonus, even after two lengthy calls to support, and two useless trips to speak with someone at the Greenlight Hub.
There are a host of reasons I would never promote Uber, except in the case of getting my sister started earlier this year.
Since the Uber protest on May 8, 2019, however, and Uber's going public on May 10th with its 10-year old unprofitable business model, I have resurrected my referral site, Drivers Earn More.
Everyone who rides or drives Uber/Lyft is encouraged to read all that I've written regarding my Uber experience and the ride-hail service that is being built for a BETTER driver and rider experience.  TRYP > The Ride You Prefer.
If you have any questions about how rideshare really works, either as a driver or rider, feel free to reach out and Let's Talk!
Safe travels!
P.S. I would love it if you'd help me with my mission to spread the Good News about the soon to launch ride-hail service, TRYP Rides.  Someone needs that information TODAY!